Back
RFCx.org
Freelance UI/UX Designer · 2016–2017
User Interface Design, Responsive Web Design, Wireframe Design
Rainforest Connection (RFCx) is a non-profit that offers a real-time monitoring system for protecting and studying remote ecosystems. I collaborated with the engineering team on a range of products, including the incident and wildlife detection dashboard, the ranger alert and dispatch portal, the AI training platform, as well as the iOS app for streaming real-time audio from rainforests around the world.
Background
In 2016 I was introduced to Topher White, the founder of RFCx.org. By that time, Topher's Ted Talk had already gone viral, and his non-profit was racing to deliver on the promise it had been founded on: the ability to reuse old cellphones as surveillance devices protecting rainforests around the world. The key part of that promise was not only the ability to detect illegal activity, such as logging or poaching, but also to provide the authorities with the tools to act on this information in real-time. I joined the team in August 2016 as a volunteer but soon after transitioned to a dedicated part-time role as the fledgling startup acquired more funding.
Design Process
When I joined, the engineering team had already built a working prototype of the monitoring system. The user interface was necessarily crude and incomplete, only used as the testing ground for the technologies under development. It used off-the-shelf styles and components from the Bootstrap framework on the front-end and needed improvements in both usability and presentation. I partnered with the VP of Engineering to turn this rough prototype into a product the company could ship to pilot users, starting with wireframe design and moving to visual design shortly afterwards.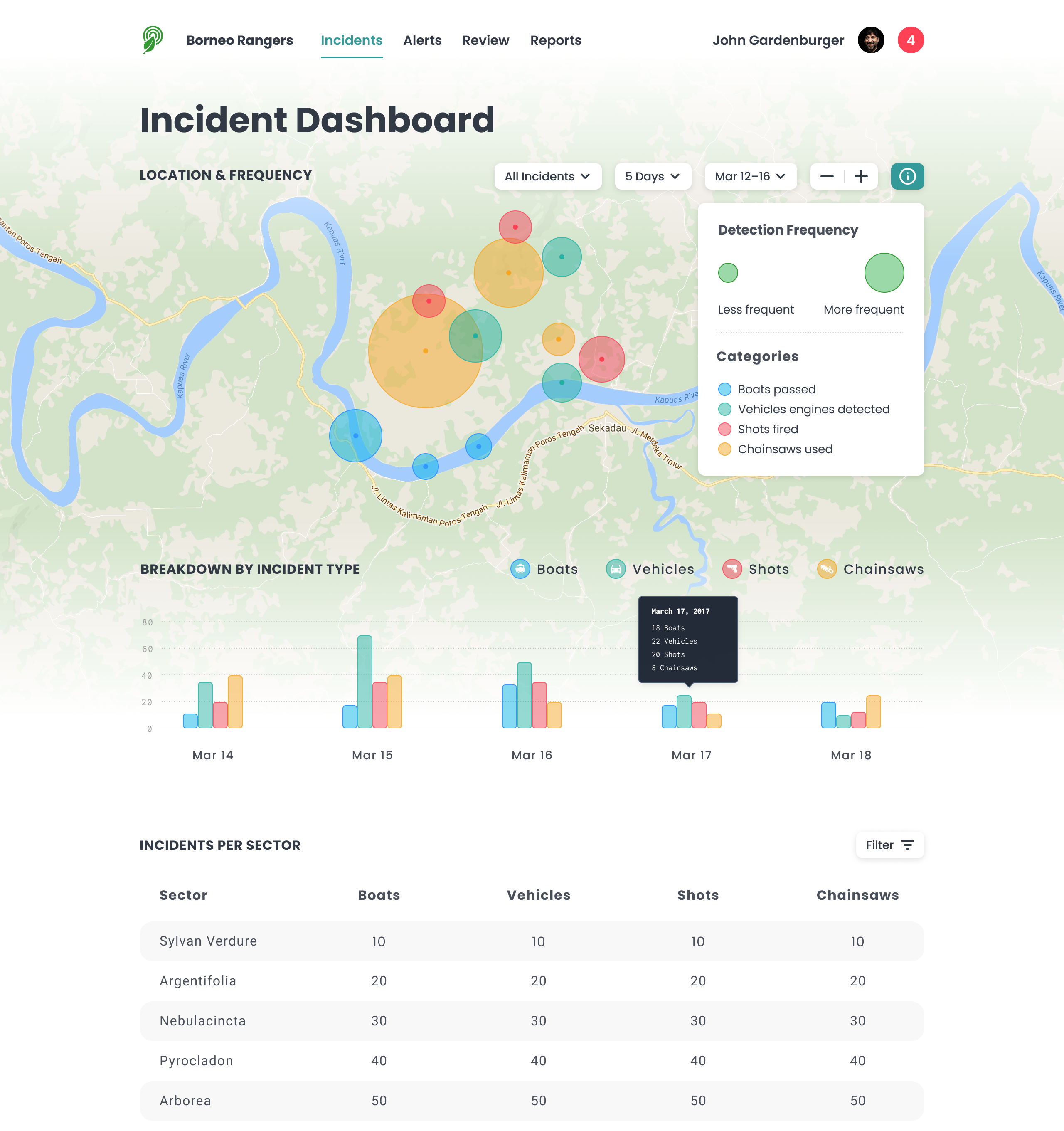 Responsive Web Design
As the product had to be used by park rangers and scientists in the field, it was essential it could also work on mobile and tablet devices. The main challenge here was to display complex charts and tables without compromising the legibility of the content and the usability of the interface. I was able to apply relatively simple solutions, though, such as collapsable menus and table row scrolling, along with surfacing only key information, to achieve the desired results.